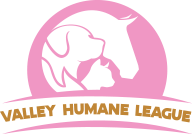 Building A Kinder World For Animals And Humans Alike
Together we can create a world where animals are treated with love and respect. Join us in our mission to empower compassion and improve animal welfare.
Leading The Way To A More
Humane Society
Valley Humane League is a beacon of hope for animals in need, a sanctuary of compassion where the welfare of animals is elevated above all else. We are an organization driven by a fierce passion for animals and an unwavering commitment to their well-being. We believe that every creature on this planet deserves to be treated with love, respect, and dignity, and we will stop at nothing to make that a reality.
Discover the stories behind our furry friends waiting for their forever homes.
At Valley Humane League, we believe every animal deserves to be loved, respected, and treated with dignity. Our approach is to provide essential care and services, advocacy, and education.
Invest In Animal Welfare, Donate Today
Every donation, no matter how small, helps us to provide essential care and services to animals in need, such as medical treatment, food, and shelter. Your generosity will allow us to continue our mission of promoting humane treatment of animals and reducing the number of homeless and neglected animals in our community.